This year
Collective
held a competition to concept and design the agencies annual Christmas e-card. The brief was to create a viral piece of marketing aimed at increasing traffic to the homepage, spread awareness and most importantly be amazing...
One of the ideas i submitted won!
The winning solution was to create a 'Naughty or Nice' Twitter-driven app, headed up by our very own
Collective Santa
. Visitors enter their Twitter username to wake Santa from his snooze.
They can then watch as Santa checks their tweets for various naughty or nice key words while he boogies to the music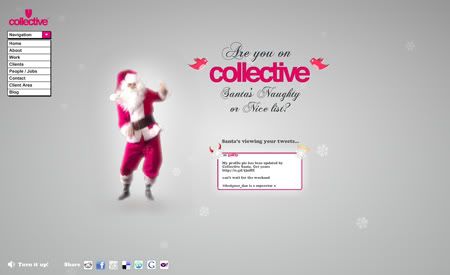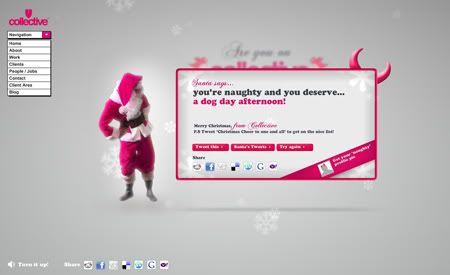 Once the results are in, Santa responds by telling the user if they are naughty or nice and what they deserve this Christmas (anything from a "farting Christmas dog" to "a New Year lottery win)
The cool thing is that if the user has been naughty, they'll be encouraged to add some Christmas cheer to their tweets and try again to make the good list. The results are then Shared on
Collective Santa's twitter page
and can also be shared on the user's Twitter or other social networking pages. The user can also choose to add a new naughty or nice profile picture to show all their followers.
So far the results have been great, traffic is up by 300% and we have had celebrity retweets from BB9's Mario to American actress Alyssa Milano (from Charmed) It's also been really insightful as you can follow how it has been spreading in real time. A real eye opener to how things spread.