Keeping things a bit local over the weekend i visited the Parasol unit off the City Road to see Adel Abdessemed's
'Silent Warriors'
exhibition.
Adel
works across a wide variety of mediums such as sculpture, installation and video, tackling the difficulties and taboos of war, politics and society.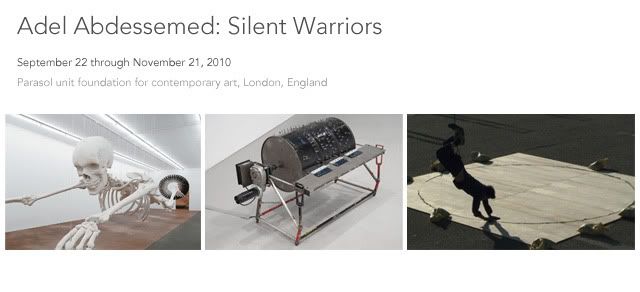 When first entering the Parasol unit you are immediately taken with the the 17 meter fiberglass human skeleton suspended from the ceiling with an airplane propeller at the back. Titled 'Haibi' 2003 (the Arabic word my beloved), the piece acts as a self portrait, with the artists claiming he spends most of his thinking time lying on the floor in this position. Another stand out piece was the sculptural music box 'Enter the circle', 2009, which plays a brief excerpt from Wagner's opera Die Walküre (The Valkyrie)
Looking through the rest of the exhibition it's clear there is a real sensitivity in Adel's work, it's not just a case of presenting a piece for the audience to interpret but in many case there is a supporting video showing the methods undertaken to produce the work. The exhibition runs for another week (21st November) so see it while you can.